Everyone knows that the best parties always end in the kitchen. With the Kitchen Party Series, we're sitting down with Feast On Chefs to get to know them, and the local foods that inspire them, a little better.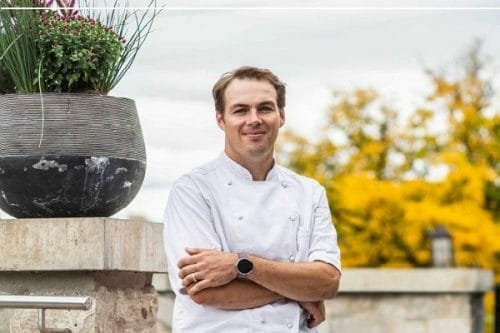 Chef Joel Labute
Cambridge Mill
Cambridge, ON
Checkout their Feast On profile here!
---
What's your favourite seasonal ingredient?
My favorite seasonal ingredient is sweet peas. love them fresh I eat them like candy.
What's your drink of choice?
Coffee, all day every day.
Most underrated ingredient?
Celery. It's in most recipes and the most important mire poix!!
Favourite restaurant?
Quatrefoil in Dundas, Ontario.
What's the best part of working with Ontario food and drink?
We have some of the best tasting produce in the world and people putting their heart into growing it properly.
Why is Feast On important to you and your restaurant?
Because we are a restaurant that focuses and prides ourselves in using and promoting local and sustainable ingredients. So, we need an organization to highlight this and make the public aware as much as possible. We are all working for the same goal.
Fill in the blank:"If I entered a competitive eating contest, I'd definitely win if the item was _______".
White Chocolate.
What does your 'perfect weekend' in Cambridge look like?
It looks like a polished stainless pass, with pristine plates of Ontario's best ingredients, going out to our customers at Cambridge Mill.
---